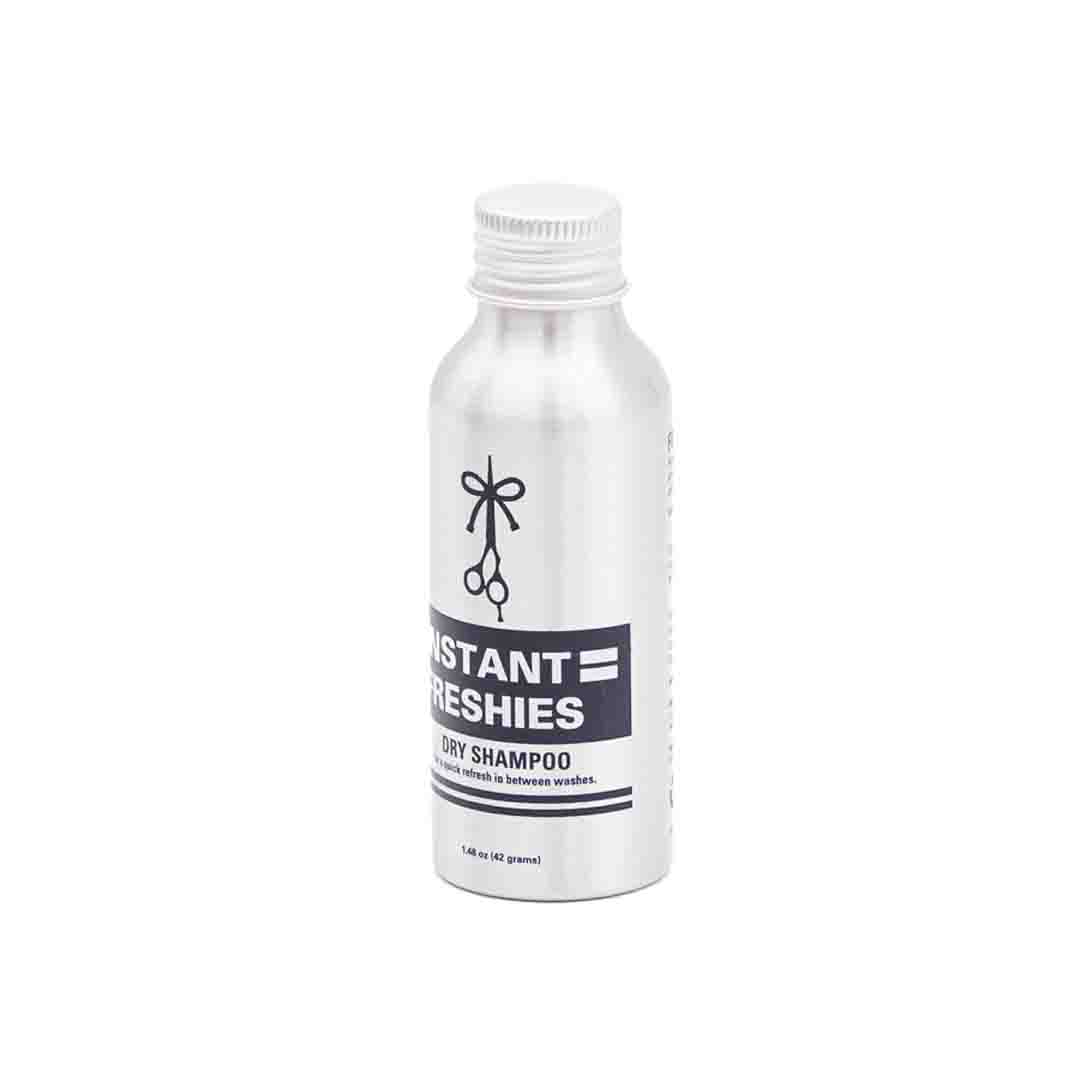 INSTANT FRESHIES
In stock, ready to ship

Inventory on the way
Regular price
$19.00
Sale price
$13.30
Save $5.70
/
---
Dry Shampoo (1.4 oz)
FOR A QUICK REFRESH BETWEEN WASHES
A measured amalgamation of powder, starches and soda absorbs oil and grease, freshening, deodorizing and boosting volume to lifeless, unwashed hair.
Refreshing benefits for all hair types and textures.
---
For Best Results 
Sprinkle powder directly onto the greasiest, oiliest areas of your scalp and roots. Using your fingertips, distribute powder briskly for thorough coverage. Brush through as desired.
Tacca Leontopetaloides Root Powder, Corn Starch, Oryza Sativa (Rice) Starch, Kaolin, Silica, Sodium Bicarbonate, Cetrimonium Chloride, Hydroxypropylgluconamide, Hydroxypropylammonium Gluconate, Fragrance/Parfum.
We all know about the zillions of tons of plastic trash piling up, while estimates show as little as 10% of all plastics actually get recycled.

Aluminum can be recycled forever.

At The Longhairs we have taken great measures to replace our plastic hair care packaging with recyclable, eco-friendly aluminum bottles.

After 10 months of initial research & development, this significant change increased our cost and lead-times while adding uncertainty to our supply chain; but it's easy to shoulder the burden when you see pictures of the vast Pacific brimming with trash.

We trust you'll understand, and won't mind paying a little more than you might normally, knowing instead of wondering whether your empty hair care bottles will end up getting recycled.

This is one of many actions The Longhairs has taken to reduce our environmental impact. We'll keep looking for new ways, because Longhairs Do Care.
Our products aren't cheap, and for good reason. Here's our pricing philosophy:
Great Products
We offer proven quality we stand behind, developing our own products through research, reviews, testing, and feedback. We don't sell anything we don't use ourselves, and if you're ever not happy we'll do everything we can to make it right.


Great Brand
We offer tips and tactics for guys with flow, advocate for hair equality, and celebrate men's long manes with hair whips and high fives. Since the beginning our focus has been the content and the community.

When you buy from The Longhairs, you're buying into what it means to have long hair: the idea, the community, and the lifestyle.


Great Purpose
We are more than just a company, and Longhairs Do Care. With an unshakeable core focus, a world-record charity, and a commitment to helping others, our purpose is far deeper than selling great hair ties.

That includes donating 1% of revenue to Children With Hair Loss, helping provide hair replacements to children who can't grow hair since 2015.
Now you know, and you should feel great about ordering from The Longhairs. As two bros who made an idea real, and from all our team, thanks for giving us a shot.
Remember…
long hair lives in the heart
.
El Moreno & El Rubio
President & CEO