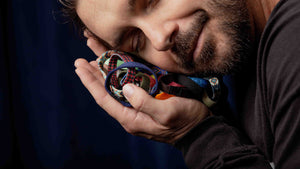 Premium Soft Hair Ties
Especially useful for thick hair, curly manes and dense locs.
Soft & Secure
Adorned with the same best-selling designs as your favorite Hair Ties For Guys, Softies are made with a cotton-elastic blend, for secure, soft-to-the-touch hold with additional stretch.
Extra Stretch. Snug Hold. Soft Touch.
Extra Stretch
Added elasticity allows Softies to stretch further, perfect for getting that third or fourth wrap.
Snug Hold
An extra wrap offers greater flexibility to secure your mane with just the right amount of tension.
Soft Touch
Noticeably softer, like a comfy blanket swaddling your locks with a mother's love.
What to Expect
From Our Soft Hair Ties
With a little extra give, something had to give.
With additional stretch we cede some longevity. Right off the card Softies are going to look and feel pristine, but tend to wear and get stretched out faster than what you're used to. 
You may notice a reduced "snap-back" appeal with usage, and the more aggressively you stretch them, the sooner they'll look like the bacon you had for breakfast.
Rest assured, if they lose some wrist appeal, your Softies will still hold strong.