Epic Cleanse Conditioning Shampoo
Regular price
$18.00
Save Liquid error (product-template line 137): -Infinity%
---
*Due to COVID, packaging colors may vary. 
Legendary Cleansing
An epic hydrating shampoo with argan, acaí and flaxseed oils and a blend of conditioning agents that cleanse your hair and scalp while restoring its natural moisture balance.
Excellent for straight, wavy and curly hair, frizz control, and manes damaged by excessive exposure to environmental elements.
Shampoo designed for men with lettuce—yet preferred by women over the leading salon brand.
What makes them epic? Glad you asked.
Ingredients
Water (Aqua), Sodium Cocoyl Isethionate, Cocamidopropyl Betaine, Disodium Laureth Sulfosuccinate, Sodium Lauroyl Sarcosinate, Glycol Distearate, Cocamide MEA, Quaternium-91, Amodimethicone, Dimethicone Crosspolymer, Dimethicone, Cetrimonium Chloride, Divinyldimethicone/Dimethicone Copolymer, Glycerin, Cyclopentasiloxane, Dimethiconol, Argania Spinosa (Argan) Kernel Oil, Euterpe Oleracea (Acai) Fruit Oil, Linum Usitatissimum, (Flaxseed/Linseed) Oil, Wheat Amino Acids, Hydrolyzed Wheat Protein, Hydrolyzed Soy Protein, Guar Hydroxypropyltrimonium Chloride, Fragrance (Parfum), Polyquaternium-10, PPG-3 Benzyl Ether Myristate, Cinnamidopropyltrimonium Chloride, Tocopherol, Acrylates Crosspolymer-4, Trideceth-12, Sodium Benzoate, Potassium Sorbate, C12 – 13 Pareth-23, C12-13 Pareth-3, Citric Acid.
Warning
Use only as directed. Avoid contact with eyes.
We know our products aren't the cheapest out there, so we wanted to share our pricing philosophy with you.
Great Products. We do all we can to offer you the best products possible and we stand behind them. In most cases we've developed or formulated products ourselves through research, learning, testing and improving, and we don't sell anything we don't use ourselves regularly.

If you're ever not happy with your purchase we'll do everything we can to make sure you are a raving fan.

Great Brand. Since day one we have been about the content and the community.

When you make a purchase from The Longhairs, you're buying more than just a product: you're buying into what it means to have long hair: the idea, the lifestyle, the fresh content we publish every week...you're supporting the movement.

Great Purpose. Since day one The Longhairs has advocated for a greater purpose than just selling hair ties. In addition to advocating for hair equality and standing up for the little guys, we donate $1 for every order to Children With Hair Loss.

That means every time you purchase a product from The Longhairs you are helping provide a quality hair replacement for a child who can't grow their own hair.
We hope this helps you better understand how we price our products and feel great about purchasing from The Longhairs. We welcome any questions you may have.
As just two bros who set out to make an idea real, we've learned it's really damn hard to run a business, which makes earning you as our customer the most important thing we can do.
With Gratitude,
El Moreno & El Rubio
You're familiar with our
pricing philosophy
, and why we price our products the way we do.
However, we understand the
cost of shipping can be prohibitive
. That's why we're offering a deal to help mitigate the shipping cost to you.
For a trial period we are offering a sticker pack available for purchase. When you purchase a
Sticker 6-Pack
you
automatically qualify for free shipping
(please see limitations below).
We realize you're still paying for an additional product, but at least you're
getting more for your money
—and you won't have to pay for shipping out of pocket.
If you don't think this is a good deal, or if you don't like stickers (who doesn't like stickers?), or if you'd rather pay for shipping...that's fine. Simply don't add the sticker pack and
have it your way
.
By mitigating the cost of shipping we hope you'll
feel even better
about purchasing from The Longhairs. We welcome any questions or suggestions you may have.
With Gratitude,
The Longhairs Shipping Department
*At the moment this offer is not valid for international customers. You guys are important to us and we're still working on a better shipping solution for you. **Free shipping offer does not apply to subscription orders, reason being we're already offering a steep discount and can't afford to also pay for shipping.
5.0
5.0 star rating
5.0 star rating
40 Reviews, 4 Q&As
Thank you for posting a review!
We value your input. Share your review so everyone else can enjoy it too.
Thank you for posting a review!
Your review was sent successfully and is now waiting for our staff to publish it.
Thank you for posting a question!
Please click on the link in the confirmation email we just sent you to submit your question.

Your question will appear on the site once someone answers it.
Filter Reviews
Smell
Hair
Feel
Difference
Shampoo
Conditioner
Difference
Shampoo
Conditioner
5 star rating

4 star rating

3 star rating

2 star rating

1 star rating
A Game Changer
Review by Laura D. on 26 May 2020
review stating A Game Changer
Since deciding to grow his hair out, my husband started using The Longhairs products and has been raving about them. Reluctantly, I decided to give their shampoo a try to see how it would do with my curly, course hair. With my hair type, it can be difficult to find products that don't dry it out or weigh it down. This shampoo instantly brought my curls back to life! My hair has been the healthiest it's been in years, and I'm honestly very impressed. The shampoo cleanses my hair all while smoothing and moisturizing without weighing it down. I could not be happier with this shampoo. With the results, ingredients, and price point — it can't be beat. Highly recommend giving these products a try. They are a true game changer!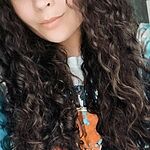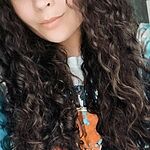 On Epic Cleanse Conditioning Shampoo
Best Shampoo I've tried
Review by Brian M. on 6 Feb 2020
review stating Best Shampoo I've tried
I've tried many shampoos and all they all had sulfates in them, leaving my hair dry and brittle. This shampoo leaves my hair feeling fresh and clean, instead. I can't recommend this enough. Definitely a quality product. 110% worth it.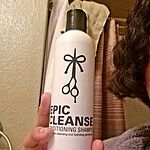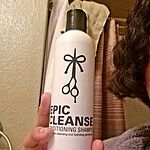 On Epic Cleanse Conditioning Shampoo
Absolute Favorite
Review by Ali K. on 16 Jun 2020
review stating Absolute Favorite
The texture, feel, and results of this product is far better than any shampoo I've used in the past. My hair never feels overly stripped of essential oils; however, my hair is left clean and hydrated. I will be using this, for the forseeable future.
On Epic Cleanse Conditioning Shampoo
Works exactly as advertised my
Review by Aaron P. on 16 Jun 2020
review stating Works exactly as advertised my
Works exactly as advertised my hair feels incredible and smells great its an amazing product from an amazing company will continue to buy
On Epic Cleanse Conditioning Shampoo
Absolutely stunning
Review by Nathan O. on 11 Jun 2020
review stating Absolutely stunning
Hair feels healthy and fresh! A wonderful smell and feel! Order again for sure
On Epic Cleanse Conditioning Shampoo
Epic Shampoo
Review by Carly A. on 10 Jun 2020
review stating Epic Shampoo
I tried my boyfriend's shampoo and had to order some for myself. It arrived super quick and I've been loving it. Smells great, lathers well, and makes my hair feel like I've already used conditioner. Immediately signed up for recurring shipments!
On Epic Cleanse Conditioning Shampoo
It smells great, feels awesome.
Review by Mike D. on 4 Jun 2020
review stating It smells great, feels awesome.
It smells great, feels awesome. Would definitely recommend!!
On Epic Cleanse Conditioning Shampoo
Amazing product will buy again!
Review by Joshua P. on 2 Jun 2020
review stating Amazing product will buy again!
Amazing product will buy again!
On Epic Cleanse Conditioning Shampoo
Q: Can't quite see the side of the bottle in the product photo...does that bunny in a circle say no animal TESTING or no animal derived INGREDIENTS?

A: It says "NO ANIMAL TESTING"
Was this answer helpful?
0
0
Q: It says it is designed for men with lettuce. If I am not holding lettuce while shampooing my hair will it still work?

Was this answer helpful?
0
0
Q: Is this Shampoo a good choice for men with extremely oily hair? I am trying to only wash my hair once or twice a week, but it gets so oily even just after 2 days. I have very thick, curly/wavy hair. Thank you in advance!

A: Hi Aaron,

Our Shampoo works great for all hair types. If your hair gets oily quickly, I suggest you wash it up to 3 times a week. Everyone has a different hair type and it is important you find your rhythm.
Was this answer helpful?
0
0
Q: Hey Guys. Am keen to try out your product. I cannot find here in Sydney, Australia. Do you ship it overseas? Thanks. Joe - one of the Longhairs tribe of men (17 inches)

A: Yo Joseph,

We were notified by USPS that shipments to certain International countries will be suspended starting April 10th due to the Covid -19 virus. We are unsure when they will release the suspension but we are eagerly waiting for that to happen ASAP. Once we receive confirmation on the lift of the suspension, we will continue to provide worldwide shipping.

Thank you Joseph for writing in.
Was this answer helpful?
0
0